Stoughton High School initially evacuated some of its students and staff on Monday, October 25, based on a report of a person wielding a gun.
That evening, administrators said the protocol was wrong.
The school first followed a protocol known as ALICE, developed in recent years to assist authorities when an armed person is on campus. Instead, the school should have put in place a hold in place for students and staff to stay in classrooms with locked doors, Principal Mike Kruse told the Stoughton Area School Board.
The high school administration had started the emergency protocol ALICE, which stands for Alert, Lockdown, Isolate, Counter, Evacuate, before they had enough information from the Stoughton Police Department on which protocol to use, an explanation at the top from the school district website. said Oct. 25.
"Once ALICE is launched through the public address system, there is no waiver," the district website said. "As soon as possible, Principal Mike Kruse took the intercom to make it clear that students and staff were to remain in place and not leave their class."
The person who was armed was apprehended before arriving on campus, according to a News 3 Now article published on October 25.
Kruse confirmed at the school board meeting that the person believed to be armed was on the high school campus and that school staff had video surveillance of the person.
The Stoughton Police Department had informed the district of an armed person, but there had been a misunderstanding between the two entities, a police department Facebook post said.
Board chairman Frank Sullivan said he had had four high school students in the district at different times since 2007, and of any emergencies or threats his children faced during that time, it was the more shaken that he had seen one of his children.
"I can't say I've seen one more shaken up," Sullivan told Kruse. "I know this is true of you, Mike, but I want it to be said that there must be some significant concern for student trauma."
Plans were in place to tell students about the incident on Tuesday, Oct. 26 during their second hour classes, Kruse said, and high school staff were briefed on the situation after the school day on Monday. School counselors would be prepared to talk to students about the incident in addition to discussing it in class, Kruse added.
"We will be debriefing with administration on the security protocol to make sure that we make adjustments to our system to make sure that it is better in the future, let's put it that way, and more streamlined," he said. -he declares.
Kruse said staff and students who responded to the flawed ALICE protocol did exactly what they were trained to do, despite being poorly initiated.
Student school board representative Hailey Sawyer told Kruse she heard from her high school peers that many of them didn't know what to do because for some emergency protocols didn't not been something they had practiced. Kruse told him that the COVID-19 pandemic had made it impossible for the school to hold exercises, but Sawyer asked for more exercises in the future so they would know what to do.
"I don't think we've ever practiced the barricade," she said. "I know COVID-19 is to blame, but a lot of people didn't know what to do. "
Reactions from board members were mixed, with some urging the district to do better in the future, while others defended the district, saying trustees were making the best decisions possible with the information provided to them. by the police department.
Board member Mia Croyle spoke up for the district, saying it was important to remember that the "bad guy" in the situation was not district staff, but rather someone who decided to go to high school with a gun.
"Yes, as a school district we still have a responsibility, when an incident like this occurs, to review our processes – I've heard that steps have already been taken to do that," he said. she declared. "Our schools do their best every day to keep our children safe. "
Stoughton high school students Noah Kleitsch, Jovanna Saimi and Annaliese Skerpan are among some 16,000 high school students nominated for the semifinals …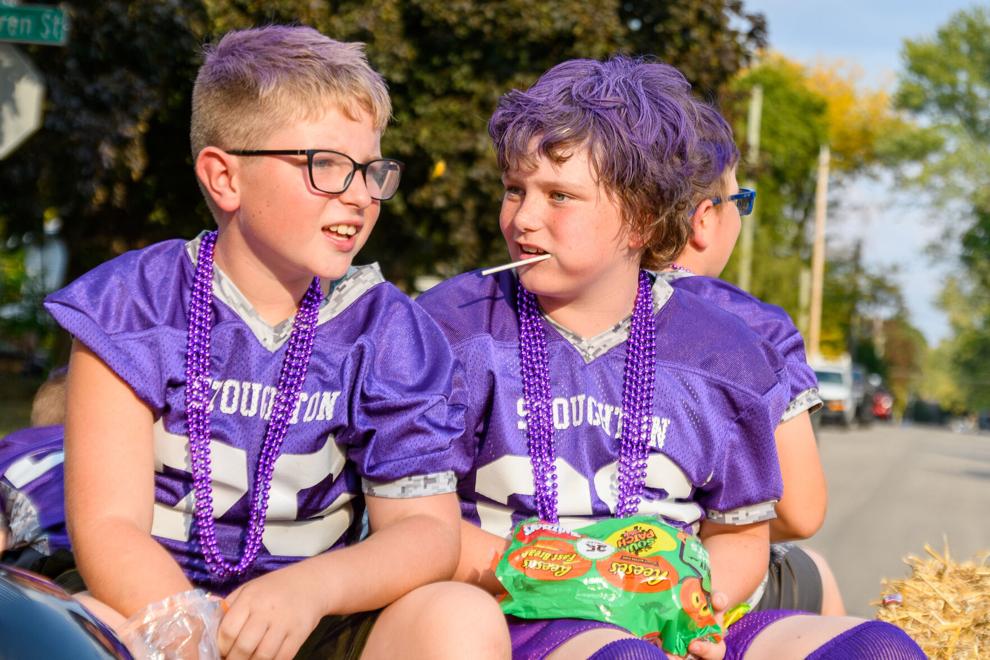 The streets around Stoughton High School were purple again as the reunion parade – and the rest of the neighborhood reunion party …
It looks like a Stoughton Area School District referendum won't be on your ballot next spring, but instead in November 2022.